Our Attitude,
Our Service Environment,
Our Commitment.
Clients seek out our services and are referred to us because of their specific financial needs and our reputation for knowing how to help. These individuals come to trust our ability to clearly understand what is required for their financial comfort, and to offer strategies that will most appropriately address their needs within a very supportive and professional environment.
As a professional advisory group, we are dedicated to providing an appropriate financial framework to fulfill each client's specific financial needs. We provide uncompromising service and attention in an efficient and cordial atmosphere, and always maintain a sense of responsibility.
We are committed to developing financial strategies that work, whether for individual, family or corporate financial structuring. We will tailor a relevant formula that balances personal, family and corporate needs to generate the most positive future incomes. Our goal is to inform, organize and empower clients for their future well-being.
While keeping all of our clients fully aware of their financial progress, we focus on developing:
Customized portfolios — estate planning — succession planning — financial advocacy — discretionary investing — cash flow management — tax management and portfolio management.
WHAT WE OFFER: OUR SERVICES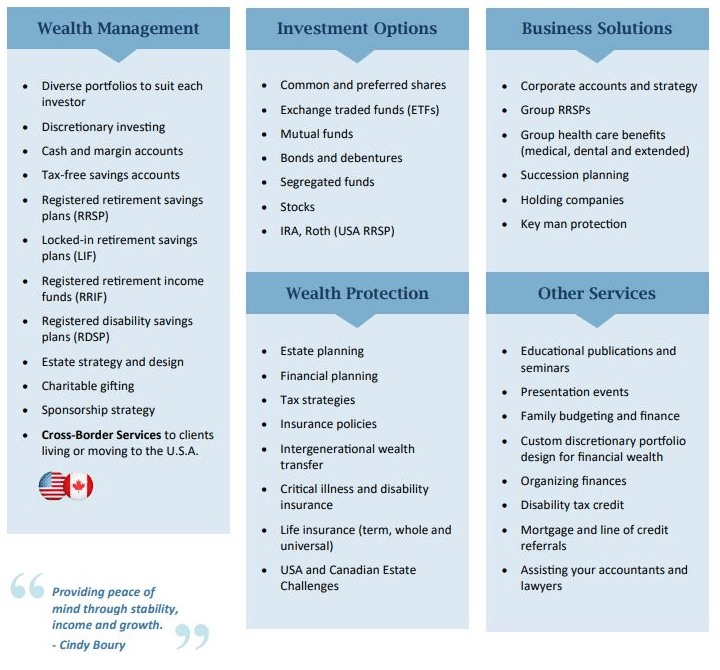 As financial professionals, our obligation is to meet your expectations.
---
Investing is the intersection of economics and psychology.